Description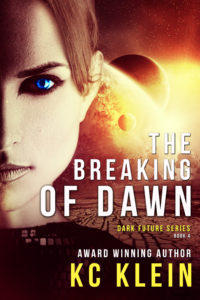 The last book in the Dark Future Series. Read the exciting conclusion in The Breaking of Dawn.
The Rebellion has one final hope…
The Prophecy should've been fulfilled. World peace should've arrived. But decades later, war on Earth wages on and the aliens still threaten Dark Planet.
Sometimes you win…
Dawning Hope Smith is the symbol of the New Republic who will lead the people, destroy the aliens, and unite all mankind.
Or is she?
Sometimes you break.
As Dawn struggles to find her place in the Prophecy, she realizes her destiny is dependent on the one mans she can't stand. When pure evil strikes, she'll need him, heart and soul, if she wants to survive… The Breaking of Dawn.