Description
Book One In The Heart Of Texas Series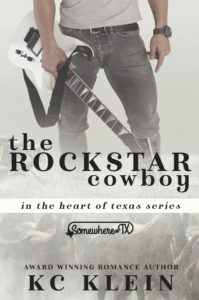 She's off-limits and he's off his game, but together, they could make perfect harmony…
What country legend Brent Kane needs is some good old-fashion female distraction. With pressure to write his next album mounting and the sales from his latest album teetering, Brent needs to find his muse–fast. So when Brent holes up at the Double D Ranch in Somewhere Texas to write his next single the last thing he expected was to find his muse in the form of his best friend's little sister.
DJ Diaz, the nonsense part owner of the DD Ranch, is not at all affected by Brent's good looks and play boy charm. She's fallen once before and learned firsthand the heartache of loving a rock star. But spending time with the man who let her down ten years ago shows her that something's missing from her life—fun. But will DJ be able to keep her heart from becoming involved in this "just for fun" relationship? And more importantly, will Brent?
The Rock Star Cowboy is the first book in a gripping small town contemporary romance series. If you like gut-wrenching emotional love stories, fascinating and complex characters, and happily-ever-afters guaranteed to stay with you long after you close the book than KC Klein will become your new "go-to" author.