Description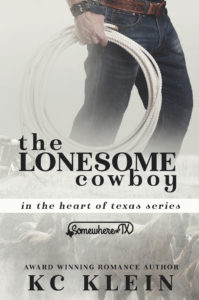 A public scandal. An unexpected pregnancy. Good thing this bull rider isn't easily thrown.
The one thing Lauren Avery wants is the one thing she can't buy—a child of
her own. With her messy divorce still fodder for the gossip rags and her
father's political campaign heating up, Lauren's shocked to find that one
careless night with a sexy bull rider might just turn out to be the best mistake she's ever made.
Professional bull rider, Cash Rodriquez has loved Lauren since high school,
but she's always been out of his reach and out of his league—something a drunken mistake can never change. But when a picture of
Lauren, pregnant in Somewhere, goes viral, Cash can't help but wonder if his worst nightmare—fatherhood—has just come true.
The Lonesome Cowboy is the third installment in the gripping In The Heart of Texas contemporary romance series. If you like gut-wrenching emotional love stories, fascinating and complex characters, and happily-ever-afters that are worth fighting for, then you'll devour KC Klein's latest story of love and redemption that's guaranteed to stay with you long after you close the book.
Download The Lonesome Cowboy today and fall in love all over again.