Hi all,
It's been awhile since I've posted on this blog, but I wanted to update you on my latest project. I am so excited to announce that I am part of a wonderful, contemporary romance box set that features five full length romance novels all set in the fictional town of Somewhere Texas. Meet a cupcake baker/match maker, a rancher, a rock star, some hot werewolves, and a sexy professor. 
You're gonna fall in love with Somewhere Texas and the best part is the TEXAS SUNRISE box set is now on sale now for only 99 cents!
I'll be posting some excerpts from my contribution to the box set The Rock Star Cowboy very soon.
ROCK ON PEEPS!! And thanks for blogging with me. 🙂
The Texas Sunrise Box Set now available for pre-order for only 99 cents!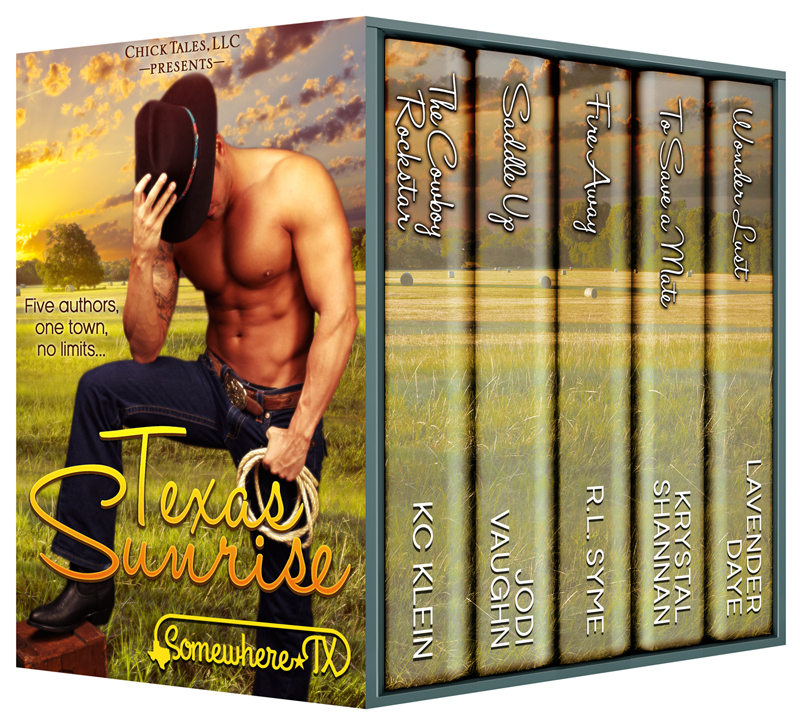 Amazon  Barnes and Noble  Kobo  ibooks
Welcome to Somewhere, TX
Five Authors, One Town, No Limits…
Volume 1
THE ROCKSTAR COWBOY by KC Klein (Contemporary Western Romance)
She's off-limits and he's off his game, but together, they could make perfect harmony…
SADDLE UP by Jodi Vaughn (Contemporary Western Romance)
She can heal his broken ribs, but it will take more than medicine to repair her reputation…Things are about to get a whole lot hotter in Texas.
FIRE AWAY by R.L. Syme (Contemporary/Foodie Romance)
When two people fall for the same cupcake, more than tempers flare…
TO SAVE A MATE by Krystal Shannan (Paranormal/Werewolf/New Adult Romance)
A chance he'd never thought he'd have comes at a price he never wanted her to pay.
WONDER LUST by Lavender Daye (Contemporary Romance w/Paranormal Elements & BDSM Elements)
The Jackalope café wasn't known for romance, but when Max and Delia met, the rules disappeared. Could a one-night-only affair be enough?
The Rock Star Cowboy available inside the Texas Sunrise box set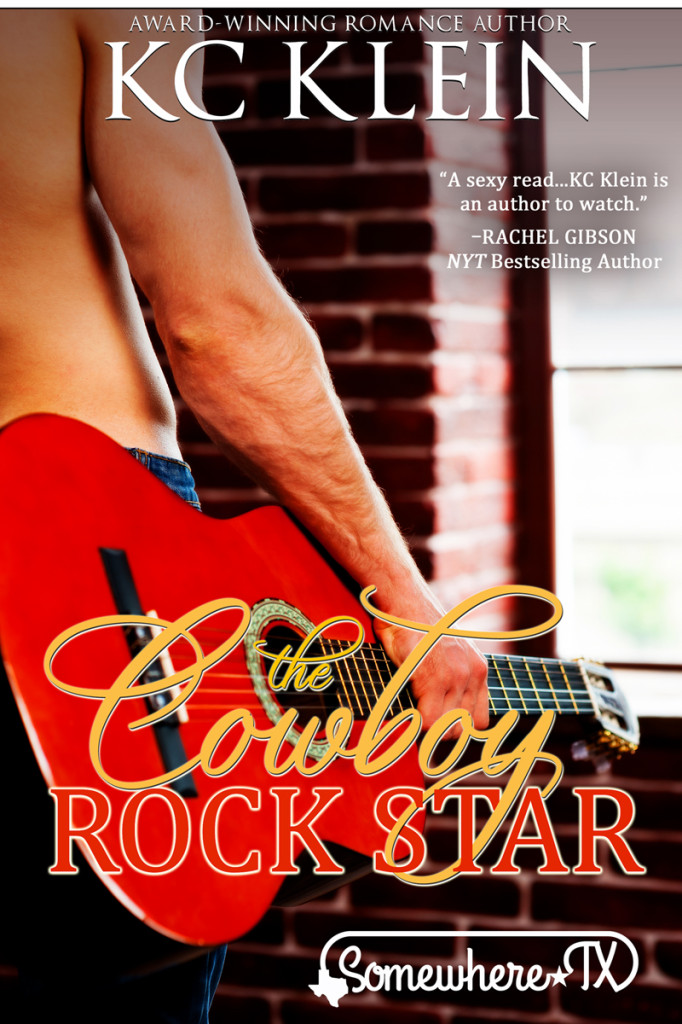 Everyone loves a rock star
What country legend Brent Kane needs is a good old fashioned hook-up. With pressure to write his next album mounting and the sales from his latest album teetering, Brent needs to find his muse –hot sex with no commitment—fast. So when Brent holes up at his best friend's ranch in Somewhere Texas to write his next single the last thing he expected was to find his muse in the form of his best friend's little sister.
DJ Diaz, the nonsense part owner of the Double D Ranch, is not at all affected by Brent's good looks and play boy charm. She's fallen once before and learned firsthand the heartache of loving a rock star. But spending time with the man who let her down ten years ago shows her that something's missing from her life—fun. But will DJ be able to keep her heart from becoming involved in this "just for fun" relationship? And more importantly, will Brent?